Editorial
Finally we wake up
The following headlines and their timings speak for themselves: "Relations with China: Why Aksai Chin is our part," by Tsering Samphel, Border Affairs October-December 2004; "Dragon swallows international treaties on Tibet: Why should we match China move by move?" by Tsering Samphel, Border Affairs July-September 2008; "The Dragon's fangs," by Pushp Saraf, Border Affairs, July-October-December 2009; "Chinese incursions into Leh district: We must match the Dragon's aggression,' by Tsering Dorjay, Border Affairs July-October-December 2009; "A first-hand account: Chinese threat to Leh continues unabated," by Thupstan Chhewang, Border Affairs October-December 2011; "Land and people next door to China," by Pushp Saraf. Border Affairs April-June 2013; "Continuing tragedy of Leh's Changthang: Need to check China, natural calamities," by Tsering Phuntsog, Border Affairs April-June 2013; "China's focus on Ladakh," by Thupstan Chhewang, July-September 2016; and "Nomads of Changthang: Life remains a challenge," by T. Phuntsog, Border Affairs July-September 2017. (Leh district was earlier part of the state of Jammu and Kashmir and along with the adjoining Kargil district constituted the Ladakh division which has been separated from J&K and elevated as a union territory in 2019. A truncated J&K has been abolished as a state and demoted as a UT).
Samphel, a former legislator, Thupstan, twice member of the Lok Sabha and the first Chief Executive Councillor of the Ladakh Autonomous Hill Development Council, Leh (LAHDC-Leh) and Dorjay a former Cabinet minister of the undivided J&K and an ex-CEC of the LAHDC-Leh, are well-known public figures of Ladakh. Phuntsog has retired as a senior government functionary and is widely respected for his knowledge of the picturesque Changthang plateau of Ladakh. All of them know their land and its people like the palms of their hands. Whatever their political affiliations they have been unanimous in expressing their concern over China repeatedly stalling the local nomadic population from grazing in their traditional pastures.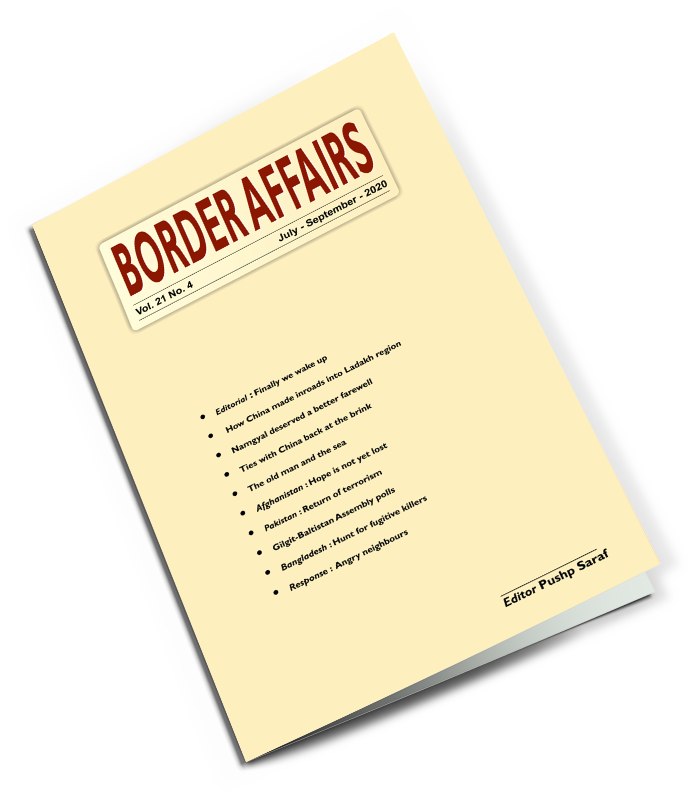 Border Affairs
Editorial : Finally we wake up
How China made inroads into Ladakh region
Namgyal deserved a better farewell
Ties with China back at the brink
The old man and the sea
Afghanistan : Hope is not yet lost
Pakistan : Return of Terrorism
Gilgit-Baltistan Assembly polls
Bangladesh : Hunt for fugitive killers
Response : Angry neighbours
Border Affairs has published photographs only on two occasions ever since it began publication in 1999. One of them was when Thupstan and Dorjay undertook a joint trip to the areas where the People's Liberation Army (PLA) of China had demolished our structures (Border Affairs October-December 2011).
Our endeavour has been to highlight the threat we face from China in a territory a major chunk of which it has already taken away from us in the 1962 war. Actually China seems to be aiming to become a third player in J&K and to that end it will keep the Kashmir dispute alive in international forums, That it is already calling the shots in Gilgit-Baltistan, another part of J&K under Pakistan's illegal occupation, is only too well known.
With this background in view it is somewhat comforting that the country has finally woken up to the threat in Ladakh. What makes our hearts ache though is that this has become possible only after supreme sacrifice by our 20 soldiers in a brawl with the Chinese intruders. The first two articles in this issue — one by Samphel and the other by veteran journalist P.S. Suryanarayana — follow up the Galwan bloodshed taking an overview of the ground realities and diplomatic moves.